Knowing and choosing the correct format for a given piece of writing—based on your goals and intended audience—will give you the appropriate amount and type of space to share what you need to, and it'll set your reader expectations correctly as well. Going back to the earlier example, if your manager sees a Slack message, they'll expect that to take at most a few minutes to read, but if you send them a long document, they'll be prepared to receive a lot of information (and might hold off on reading until they have the time they need to digest it).
Find a Writing Partner
If you work at a reasonably sized company, the chances are pretty good that there is at least one other person who is also wondering how to become a better writer. Although writing is typically considered a solitary activity, the best writers know when it's time to get much-needed feedback on their work.
Most people balk at the idea of standing in front of a room full of strangers and baring their soul to the world, but joining a writing workshop can be immensely beneficial – and a lot of fun (if you manage to find a good one).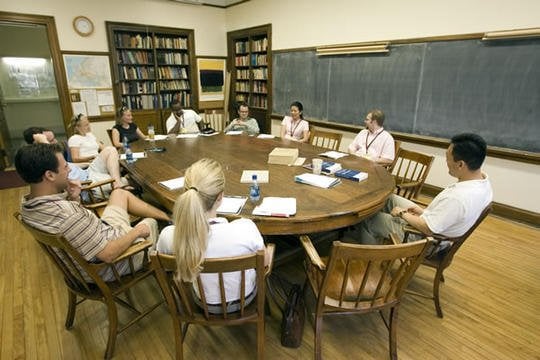 You don't need to have an unfinished novel hidden away in your desk drawer to join a workshop. These days, content marketing meet-ups and professional development groups are becoming wildly popular. Join one of the many content marketing groups on LinkedIn to meet like-minded writers, or search for writing workshops near you on sites like Meetup. Pick a topic, write something, listen to the feedback of the group, and then revise it. Rinse, repeat.
Grammar, Punctuation & Co.
Grammar Girl
Mignon Fogarty's quick and dirty tips for better writing. Grammar Girl provides short, friendly tips to improve your writing. Covering the grammar rules and word choice guidelines that can confound even the best writers, Grammar Girl makes complex grammar questions simple with memory tricks to help you recall and apply those troublesome grammar rules.
Jack Lynch's Guide to Grammar and Style
These notes are a miscellany of grammatical rules and explanations, comments on style, and suggestions on usage put by Jack Lynch, an Associate Professor in the English department of the Newark campus of Rutgers University, for his classes.
40+ Tips to Improve your Grammar and Punctuation
"Purdue University maintains an online writing lab and I spent some time digging through it. Originally the goal was to grab some good tips that would help me out at work and on this site, but there is simply too much not to share."
Proofread
No matter what you're writing, taking a last look to check for any typos or mistakes can save you a lot of headaches in the long run. Did you contradict yourself somewhere or leave the verb out of a sentence? Read anything you've written out loud if possible. Sometimes things look OK on a screen, but when you try to say them, you realize something's not right. In a similar vein, you might also print out your writing and correct it on paper, Smith says. Often this is enough to see your writing in a different way, making it easier to spot errors. If the writing has higher stakes or the impression it makes on the reader matters a lot, try to get someone else to read it as well, Goodfellow says.
There are plenty of programs and plug-ins that claim to "fix" your writing, such as WritingProAid, Sapling, Grammarly, and even the spelling and grammar checkers built into word processors. These tools can make it easier to write well, Smith says. But they shouldn't be your one source of truth. Computer programs tend to miss key context that human readers would understand. "Spell-check can help but there are many words that are 'correct' but may not be what you intended," Goodfellow says.
None of these tools should stand in for a thorough proofread. As a professional editor, I use tools like this to call attention to possible errors, but I always look at their suggestions before accepting them and consider whether they're actually correct or clear. I also look carefully for errors the tools didn't catch at all. Computer programs can easily miss homophone mix-ups, tense switches between sentences, incorrect word choice, and other issues. And sometimes you may need to write in a style these tools aren't programmed to support. For instance, if you're writing about investing, they might mark stock tickers and common financial abbreviations as errors.
If you're applying for a writing-heavy job, you may be asked to submit a writing sample along with your application or complete a skills test at some point during the interview process. But you can showcase your writing skills at other stages as well, no matter what kind of job you're applying to.
In Your Cover Letter
When writing a cover letter (and you should write a cover letter), you'll want to follow all the same advice as when you're writing a resume. But cover letters give you more room to really show off your writing skills. Rather than rattling off lists of qualifications you have, use your cover letter to write succinct but persuasive anecdotes that come together to tell a coherent story about why you're the right person for the job. Choose past experiences that are relevant to the job you want and support your overall narrative. And make sure your sentences and paragraphs flow in a logical way and it's always clear why information is being included. You can also inject more voice and personality into a cover letter than you can in a resume to give the reader the sense of who you are as a person.
But you'll still be communicating with your prospective employer via email throughout the process. "Taking the time to craft well-written email responses is a fabulous way to make a solid first impression," Smith says. "Recruiters and hiring managers will notice a difference between well-thought-out responses vs. rushed comments."
Remember you're being evaluated not just for your ability to do a specific job, but for your potential as a teammate. A coworker or direct report who communicates via email in a clear and professional way will make everyone's work easier in the long run, whereas someone who's hard to understand in writing might seem like a future headache they'll have to address—especially if you'll be communicating with people outside the company through email.
Regina Borsellino is a NYC-based editor at The Muse covering job search and career advice, particularly resume best practices, interviewing, remote work, and personal and professional development. Before joining The Muse, Regina was an editor for InvestorPlace, where she also wrote about topics such as investing and biotech companies. She holds a BA in English language and literature from the University of Maryland and an MFA in creative writing from American University. Find her on LinkedIn and Twitter.
Sources:
https://www.wordstream.com/blog/ws/2014/08/07/improve-writing-skills
https://www.smashingmagazine.com/2009/06/50-free-resources-that-will-improve-your-writing-skills/
https://www.themuse.com/advice/writing-skills-examples-how-to-improve