Most students will be aware of video calling software such as Skype and FaceTime by now, and this technology is becoming even more easy-access as computer companies integrate quality cameras into their products and internet connection speeds get faster. As the overall technology improves, so too do the versions available on smaller devices. Using FaceTime on an iPhone has become as easy as making a call, while Skyping on a tablet makes it brilliantly possible to cook dinner/browse the web/compose a text while talking to your parents back home. Other video call apps include imo and Tango.
Lecture capture apps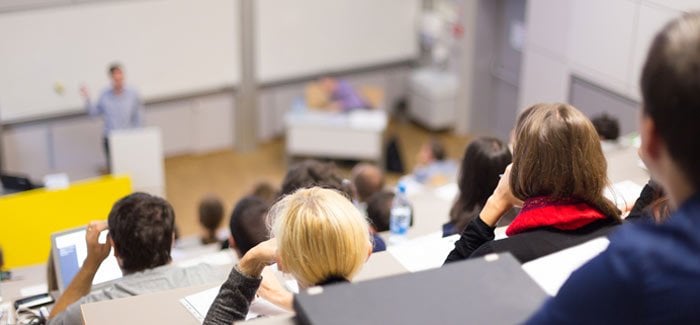 Just a few years ago, students attending lectures would have to spend the entire time scribbling wildly on notepads, in order not to miss any vital bit of information. Then along came technology, and now, lecture capture apps are a reality. Although the recording of lectures has been common practice within universities for a while, lecture capture apps allow you to record and listen back to classes without having to spend extra money on expensive recording equipment.
SoundNote (iOS) is a popular lecture capture app for iPad users, acting as a notepad and audio recorder, so you can store an entire lecture in both visual and audio form. If it's a whiteboard you want to capture, however, Office Lens allows users to photograph a whiteboard, convert it to a PDF, Word or PowerPoint file and store all the data via OneNote or OneDrive for catch-up and revision purposes.
Office Lens
Depending on what you're studying at uni, you might find yourself faced with a real humdinger of a diagram from time to time. But what's the best course of action? Frantically scribble it down, or drop your pen and let the lecturer explain it?
Thanks to Office Lens, you no longer have to choose. All you have to do is hold your camera up to the board and take a picture, and the app will crop out everything around it (including any pesky backs-of-heads).
What we like most about Office Lens: If you take a picture of something at an angle, the app will align and edit the image to appear as though it's directly in front of you. If you're okay with this kind of black magic, Office Lens is ideal for when you've been cast to the edge of the room.
Microsoft Office
Now, unless you're a total hipster, you'll almost certainly use Microsoft Office to get your work done. Chances are that you only really use the Three Amigos (PowerPoint, Excel and Word), but it's comforting to know that you also have access to Outlook, OneNote and OneDrive if necessary.
The good news is that Microsoft has made apps for Office's leading lights, and they're available on all the major platforms. It's great to be able to escape your work but, equally, it's a massive pain when you're out and about and suddenly realise there's something huge that you should (or worse, shouldn't) have included in your essay.
What we like most about Microsoft Office: Microsoft has finally caught up with Google and introduced a collaboration function, meaning anyone with access to a document can simultaneously edit it. Aside from the obvious prank potential, this is a great feature if you're working on a group project.
The Bookworm
If you have a favorite study spot in your school's library, keep a highlighter and flashcards handy, and enjoy reading the course literature before every lecture, you might be a studious Bookworm. As you're clocking long hours in your study circle, it's clear that you love learning, and your good grades show it! Study apps will make your life even easier by placing efficient study tools at your fingertips.
Quizlet flashcard app
No matter what subject you're studying, flashcards are an effective way to help your brain remember connections. With the Quizlet flashcard app, you can create customizable flashcards – helping you remember the key pieces of information you need to ace your classes!
If you're running out of study time, this student planner app has a flashcard library with millions of pre-created flashcards available for free! This app is especially helpful for international students looking to learn some of the local language in their study abroad country. Browse the library to find a deck of flashcards in your subject area and add them to your daily study routine!
Evernote
Tired of rifling through notebooks and folders for the right notes? Organize your coursework, track due dates, type notes, and save related handouts, websites, and whiteboard pictures- all in one place. Evernote also allows you to save webpages for markups, and can even be integrated with Google Drive and Outlook!
If you are always forgetting where you save things, you can search tags and text, even within uploaded photos of your handwritten class notes. You will never have to worry about losing connection, as this student planner app is usable even if you're offline.
The Language Lover
There are many reasons to learn a new language. Maybe you want to travel, communicate with new friends, or would just like the pleasure of learning something new. Whatever your current level of fluency is, study apps made specifically for language learning online can help you make progress outside the classroom. If your goal is to order a coffee on your next trip overseas or if you're nearly fluent and want someone to practice with, these apps will make it even easier!
Duolingo
It's a fun and addictive game-based learning platform where you earn points for correct answers, race against the clock, and level up. Exercises are adapted to your vocabulary and learning style, and you'll receive feedback immediately as well as tips for improvement. Duolingo forums also provide a great way to talk to others about specific linguistic questions or language learning in general!
This app is ideal for Language Lovers looking for a fun, fast way to boost their language skills. A study has shown that just 34 hours of Duolingo is equal to 1 university semester of language courses, making it one of the best apps for college students who want to learn languages!
HelloTalk
They say the best way to learn a language is by using it with native speakers, and this app delivers the ultimate language exchange! HelloTalk allows you to learn a language while exploring new cultures and making new friends around the world.
The app hosts a worldwide community of users dedicated to helping you practice more than 100 languages. Connect with native speakers who will teach you their language while you teach them yours! Chat via text, voice recordings, voice calls, video calls, and even doodles.
Sources:
https://www.topuniversities.com/blog/most-helpful-apps-students
https://www.savethestudent.org/bills-utilities/mobilephones/essential-apps-that-every-student-needs.html
https://www.educations.com/articles-and-advice/apps-for-every-kind-of-student-18489
Students apps
Built in with different features allowing you to see bundles of similar emails, check off or snooze your reminders from calendar, Inbox allows you to have things done instantly and also get back to old tasks at anytime.
10 Best Apps for Students in 2021
Whether you want help with finding the best note taking apps for students, keeping focus during study sessions, or even finding discounts to help keep you under budget each month, we've got a comprehensive list of apps for your smartphones, tablets and laptops, to help you navigate through your student years
Referencing can be a tedious process, especially if you lose track of what books and resources you've used along the way. Fortunately, RefME has developed a clever app that makes the process of finding and citing resources much more efficient, saving you time (and endless headaches).
For new students, the app has thousands of open educational resources which can be a great place to start your academic reading and prompt further research. This saves hours spent scrolling through Google, trying to find relevant papers for your studies.
But its main highlight is the ability to automate citations, reference lists, and bibliographies with ease – again giving you plenty of extra time to spend improving your work. How? Simply scan the barcodes of all the books and journals you're using and RefME will automatically generate the citations within seconds.
Spotify
Spotify collects user, usage, and plan verification data. You can also choose to share voice data, payment and purchase data, and contests, surveys, and sweepstakes data with Spotify. Spotify also collects data from third party sources which include authentication partners, technical services partners, payment partners, and advertisers. Spotify uses user data to improve user experience and "for marketing, promotion, and advertising purposes." Spotify "may process certain personal data to help Spotify understand your interests or preferences so that we can deliver advertisements that are more relevant to you." You can read its full privacy policy here.
Tinder
College is a great time to meet new people and explore your sexuality, and Tinder is a great tool for meeting new people to do just that. You can also enroll in Tinder U with your college email, which prioritizes other students in your swiping.
Tinder collects your usage information, device information, and other information you share with your consent like geolocation. Tinder shares this information with other uses, service providers and partners, and other MatchGroup businesses. It may also ask for your consent to share your information with third parties like advertisers in a "non-human readable form." You can read Tinder's full privacy policy here.
RealCalc Scientific Calculator
The name of this application itself perfectly describes its features and functions. If you are a math student, and you always need a calculator to solve equations quickly, you are welcome to download RealCalc Scientific Calculator. Now you will never be afraid of forgetting your calculator at home (well, you can still forget your phone, but anyway).
How often do you use copy and paste buttons while writing your essay for example? Some students simply add a couple of their own thoughts to that copied material, and here it is—a new essay! Sound familiar? Then JumpCut is your savior here: this application saves you a lot of time, giving you access to all texts that you have copied and pasted before, even if a new text has been copied by you again since then.
Chegg
When a new semester comes, and you have to buy many new textbooks to continue your study, do not be in a hurry to sell your soul and spend all your money. Download Chegg, a free application which lets you find rentals of textbooks you need! Just search for a book, and if they have it, put in an order. And when you no longer need a textbook, you can easily rent it again via Chegg. Easy to use and useful to try.
Being a college student in 2014 means having a large number of Google Docs (and big chances are, that this number will be much bigger than you could even imagine). It's logical, that you will need access to all these documents from everywhere; so, the best decision here would be Google Drive application for your mobile device.
Sources:
https://oxfordsummercourses.com/articles/best-apps-for-students/
https://mashable.com/article/best-apps-for-college-students
https://www.lifehack.org/articles/technology/25-apps-college-students-shouldnt-live-without.html
Students apps
Did you know? Most smartphones have built-in tools for tracking screen time and setting limits. They might not be as fancy as Forest and Freedom, but they can get the job done in a pinch. Look for 'Screen Time' (iOS) or 'Digital Wellbeing' (Android) to explore your options.
How to Promote Apps for Students
If you're considering creating and marketing an app, students are among the best audiences to target. Students are always looking for new apps to try out, whether they're for helping them in their academic life or managing their personal life. While these audiences are worth connecting with through your app marketing, you need to take the right approach to both app creation and promotion to reach these users.
Students, particularly in today's younger generations, continually look for the perfect app experience. Today, 79% of teens between the ages of 13 to 18 own a smartphone , and college students are even more likely to carry them, with 93% of individuals with a higher education owning smartphones as of 2021. If you want to establish a relationship with these audiences, you'll find them to be a lucrative market for your app.
Steps for Promoting Apps to Students
The key to connecting with teenage and young adult students is to develop a marketing strategy that appeals specifically to them. Unlike audiences who aren't attending school, students have unique needs that you must address in your campaigns. The following are some specific ways to promote your app to students and convert them into satisfied loyal users.
1. Create a Plan
Before you can begin marketing your app to students, you need to have a clear plan in place. Otherwise, you won't be able to determine how successful you are in your efforts, and you may find that you're wasting your budget on ineffective campaigns.
The first step to take here is to establish well-defined and realistic goals that you can achieve. Also, make sure you have the ability to reach these goals within a reasonable timeframe. You can do so by developing a detailed timeline that helps you track your progress and determine where you are compared to where you should be.
2. Encourage Word-of-Mouth Advertising Through Testing
Word-of-mouth advertising is one of the most effective ways to promote your app without direct involvement. This form of marketing can complement the rest of your campaigns as students recommend your app to others. The fact is that 92% of consumers still trust recommendations from friends and family over strangers and brands, and students are no exception.
You can drive word-of-mouth advertising by selecting a group of students to test your app and reward them for participating. You can then encourage them to share their experience with people they know and their social media connections, offering a reward in exchange for spreading the word about your app.
3. Connect with Influencers
As you approach your app's public launch, try to reach out to relevant influencers and bloggers in your industry. The best time to connect with influencers to market your app to students is when you've prepared all of your marketing materials, before the official release.
Many influencers have large followings consisting of students, which is why you should take the time to perform some outreach to build relationships with these individuals. You don't need to go after big influencers with millions of followers, either. Micro-influencers within narrower niches often have hundreds or thousands of loyal followers.
When getting influencers involved, you can offer them a free premium version of your app or a free product in exchange for videos and live streams discussing their experience. This is a great way to generate excitement and build trust among these influencers' audiences.
4. Offer Incentives to Maximize Engagement
When students start using your app, give them in-app incentives to continue using them. These rewards could include points that contribute to savings, free in-app items, and others that drive engagement. This will help establish your app as part of students' daily routines.
5. Get Creative With Social Media
Students and social media are as inseparable as ever, which is why you need to take advantage of these platforms when promoting an app for students. Although younger audiences still use Facebook, students are becoming increasingly loyal to Instagram, Snapchat, and TikTok , which offer a more visual experience.
Using social media, you can raise your brand's awareness while nurturing relationships with prospective users. On platforms like TikTok and Instagram, you can share screenshots and videos of your app that entice students, while ads supplement them. You can also offer free trial periods, behind-the-scenes footage and details of your development teams, and other ways to engage with these audiences.
Three happy students dressed casual using tablet for school project and sitting at desk in library.
6. Gain a Deep Understanding of Your Audiences
While you may have an idea of what students want from your app, you should take steps to gain an even deeper understanding to ensure you connect with them. Keep in mind that the students of today are different from students even a few years ago, with rapid changes in technology and trends making it important for you to keep up with them.
It's not enough to research audiences online—consider physically visiting campuses to speak with students in person and get their input. In addition, you could attend conferences in the education industry to help further promote your app.
7. Maintain Good Communication
You can communicate with audiences via social media platforms, requesting feedback from users while responding to comments or complaints. You should also make sure your communication is personal, with email content and other messaging that speaks directly to prospects and users.
Productivity apps for students
Alright, so you've got distractions out of the way and some background sounds on loop. Now let's talk about some good apps for students that will help you get the most out of your study time. The next two study apps help you organise your schedule and stay on top of assignments so you can achieve more and cram less.
4. Todoist
Todoist can organise your school subjects, assignment deadlines, homework and… pretty much your whole life, if you want it to. This is one of the best apps for students because it keeps your schoolwork on track while also holding you accountable.
5. myHomework
This study app for high school students tracks all your classes, projects, assignments and tests, and it sends you reminders of due dates. The myHomework app also syncs across all your devices, so you can check your assignments and timetable from anywhere and anytime – at school on your laptop, at home on your tablet or on the bus on your phone.
Apps for sorting your study notes
Are you the type of student who needs their notes neatly alphabetised or colour-coded? Or do you thrive on the chaos of having your notes jumbled together? Either way, these study apps can store your notes safely online and organise them any way you like.
6. Evernote
Evernote gives you the freedom to take notes on the fly and edit them with rich formatting tools. This means your notes will look exactly how you like them when it's time to revise them. And if you didn't organise them, no problem. The powerful search tool will find what you need – even in handwritten notes and pictures. You can also add documents, images and audio recordings to your notes.
Not sure how to sort your notes? Evernote provides handy templates to get you started – check out 'Class Notes', 'Cornell Notes' and 'Project Overview – School'. The app also lets you sync your notes across devices (two devices on the free plan, unlimited on premium).
Top tip: Evernote isn't just a good app for studying. It's also a great app for life during and after high school. If you find it helpful at school, it will continue to serve you well at uni and work.
7. LiquidText
Taking digital notes has never quite captured the flexibility and satisfaction of pen and paper… until now. LiquidText delivers the best of both worlds. This app works on an iPad, Mac or Windows computer, but it really hits its stride with a touchscreen and stylus. You can handwrite notes, connect items by drawing lines and use gestures to zoom from page to page.
From creating mind maps to highlighting class materials, LiquidText gives you versatility and feels great to use. This is what makes it one of the best apps for students who use an iPad and/or touchscreen laptop.
Sources:
https://appsamurai.com/how-to-promote-apps-for-students/
https://future-students.uq.edu.au/stories/best-apps-students
https://www.edutopia.org/article/apps-students-special-needs-school-buildings-shutter